The Trap Man American signal Crayfish Trap, multi live catch
The Trap Man Crayfish Traps are multi catch repeating traps that can catch lots of crayfish at a time without you having to reset the trap. The one way funnel design of the trap leads the crayfish in, and it's imposible for them to get out. The Trap Man Crayfish Traps should be placed in the water near the bank with the entrance of the traps facing downstream. It may be necessary to secure the traps with bolders or tie them to something imovable.The Trap Man crayfish traps should be baited using meat , fish or tinned cat food.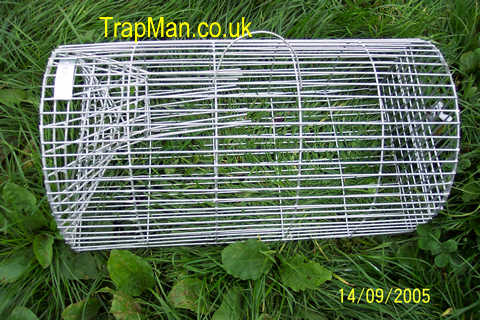 Crayfish Trap . Pack of Six crayfish traps
The Trap Man Crayfish traps are manufactured from galvanised wire after manfacture, not the usual moulded plastic or plastic mesh that others use, our cray fish traps don't float, come undone or crack like plastic one's.
Dimensions 18 " x 7" x 9"
The hinged door is released by pushing up on the slide, empty the captured crayfish into a bucket of water.
You may require a licence to use this trap. These are approved for use in the UK, the entrance hole is 60mm and the mesh is 1/2" x 3"